Reformer Pilates Studio in Mt Gravatt
Welcome to Pronto Pilates, Mt. Gravatt! Get ready to dive into the world of reformer Pilates with classes starting at just $5. With 23 classes to choose from every day, there's a time to suit even the busiest of people.
We're changing the game when it comes to traditionally expensive and inconvenient Pilates classes. Our studios are designed to be run more like 24/7 gyms, fuelled by our awesome community of members and technology. Across 5 studios, we have over 1000 members who can now enjoy affordable and convenient reformer Pilates classes.
Our innovative approach allows you to seamlessly follow along and experience Pilates like never before. And, if you ever feel lost or fall behind, a quick glance at the screen and you're back on track!
Move better, feel better, and get stronger.… for 75% less than traditional studios!
I didn't know what to expect with the video classes. But I actually really enjoyed it and was grateful that the exercises were easy to follow. Adri A.
I'm loving Pronto Pilates. The video format is clear and well paced, making it easy to follow and keep up with. The studio is clean and looks great. Kat L.
Book A Class
Not a member yet? Select the plan that's right for you, then come back here to book your first class! We can't wait to meet you.

We can't wait to welcome you to Pronto Pilates Mt Gravatt
We're excited to have you join our community of people who want to move better, feel
better, and get stronger.
We are located in the heart of Mt Gravatt opposite City Cave.
New to Reformer Pilates?
Start your Pronto Pilates journey with our Orientation Class. Our orientation class will teach you everything you need to know to get the most out of your classes. This highly detailed video led class will break down how to use each part of the reformer and you'll get to practice some basic moves.
Facilities
Reformers: 16 Allegro Machines.
Location: Shop 2, 1407 Logan Rd, Mt Gravatt (right next door to Punjabi Masala)
Parking: On-site parking available.
Amenities:
Air conditioning
Storage
Toilets and change rooms
Get Started from Just $5 per Class
With group reformer classes starting at an amazingly affordable $5 per class, now everyone can enjoy Pilates! You're guaranteed a quality workout at an affordable price and with a convenient class schedule to fit your lifestyle.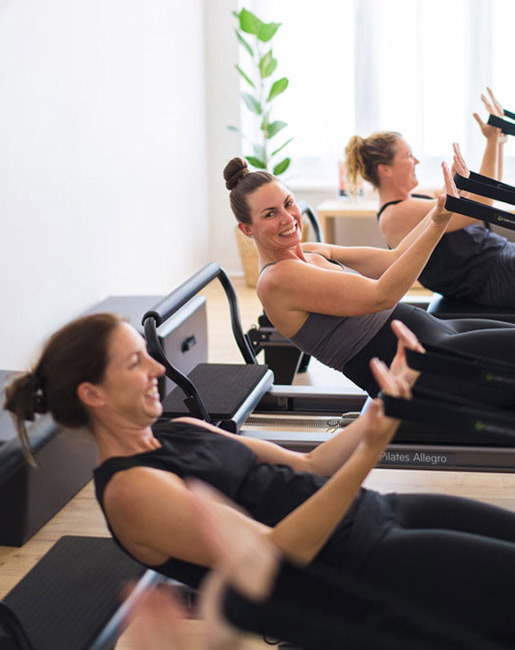 ---
Pronto Pilates proudly serving Mt Gravatt, Holland Park West, Mt Gravatt East, Upper Mt Gravatt