Reformer Pilates Studio in Richmond
Discover the perfect Pilates experience at Pronto Pilates in Richmond – where affordability meets convenience and quality.
With group reformer classes starting at just $5 and over 20 classes available daily starting from 5.15am, we offer flexibility that suits your lifestyle and budget.
At Pronto Pilates, we're rewriting the playbook on traditionally, costly, and inconvenient Pilates classes. Our studios are designed to operate more like a 24/7 gyms, powered by our fantastic community of members and cutting-edge technology.
Across our six studios, we've welcomed over 2000 members who can now enjoy the benefits of affordable and convenient reformer Pilates classes.
Our innovative approach allows you to seamlessly follow along and experience Pilates like never before. And if you ever feel a bit lost or fall behind, a quick glance at the screen will get you right back on track!
I love Pronto. It's so much fun having a virtually unlimited pass. My fitness and mindset are just through the roof. I can pick up my 20kg 6-year-old again! Annabelle
Join us and revolutionize your Pilates journey at Pronto Pilates Richmond!
Get 50% Off Your First Month*
Simply fill out this easy registration form – no credit card required.
A few days before the Richmond Studio Grand Launch, we'll email you a link to choose your ideal Pronto Plan along with your 50% discount promo code!
*Offer Available for New Members & One Time Use Only.
Super affordable and the classes are great and super fun! Would definitely recommend to everyone who enjoys/ would like to start pilates. Aimee
Honestly never tried reformer as it's always been so expensive and I couldn't justify it compared to other gym classes but when I saw pronto I had to try it! And omg I've become obsessed….. great value, great classes, clean space… just love it. Lucy

We can't wait to welcome you to Pronto Pilates Richmond
We're excited to have you join our community of people who want to move better, feel
better, and get stronger.
We are located in the heart of Richmond next door to Metro Baby. Burnley Train Station and East Richmond Train Station are within 5 minute walk and Richmond Station within 10 minute walk or short tram ride.
New to Reformer Pilates?
Start your Pronto Pilates journey with our Orientation Class. Our orientation class will teach you everything you need to know to get the most out of your classes. This highly detailed video led class will break down how to use each part of the reformer and you'll get to practice some basic moves.
Location: 281 Swan Street, Richmond (upstairs, above Maison Living)
Parking: Ample Free on street parking
Amenities:
Air conditioning
Storage
Toilets and change rooms
Get Started from Just $5 per Class
With group reformer classes starting at an amazingly affordable $5 per class, now everyone can enjoy Pilates! You're guaranteed a quality workout at an affordable price and with a convenient class schedule to fit your lifestyle.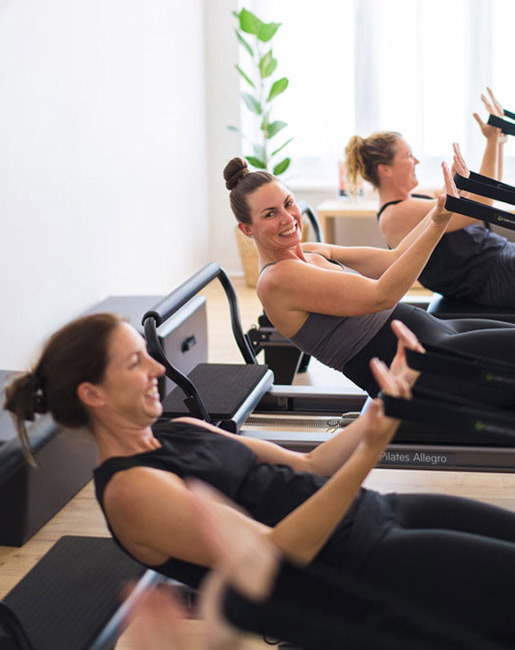 ---
Pronto Pilates proudly serving Richmond, Cremorne, Kew, South Yarra VIC